Our boat is an Agapi 950 Twin and goes by the name of Pandora.
The idea to run boat charters of a different kind was born when we first discovered the concept of Agapi. It has all the advantages of a rib boat without actually being a rib boat. Because of its construction, the Agapi is much safer and easier to maneuver, even in difficult conditions. It has a large capacity and can take up to 10 passengers. And with 600 hp it can still reach top speed with a full load.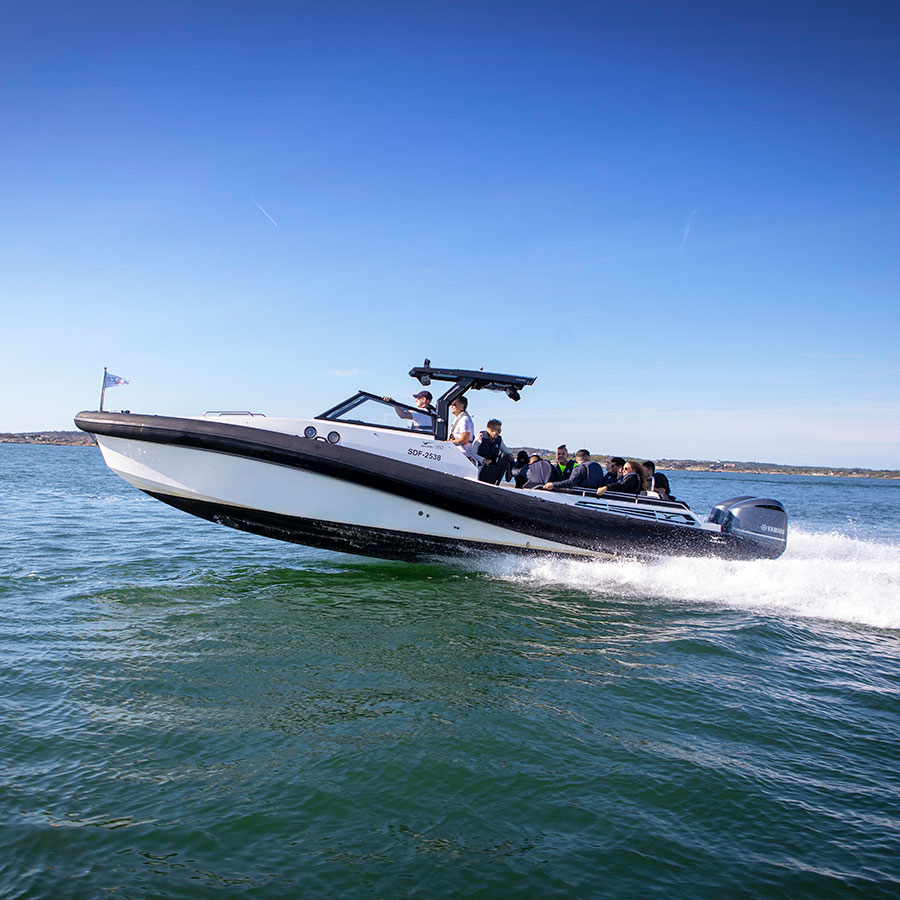 It combines luxury experience with team spirit, and we love that our guests are involved in the boating routine without losing the VIP feeling. Whenever possible we keep the boat as open as we can, and when the weather is against us (yes, it's been known to happen on Sweden's west coast), we have a full cover with large windows to protect us.
There are some other nice features on board including, heating, toilet, refrigerator and sound system. The boat has a enough room in the cabin for your belongings so they will be safe during the trip.
Safety is very important to us and it's our priority to make you feel secure on board with us. All our staff are fully qualified to drive passenger boats, and our Agapi boat is registered with the Swedish shipping registry. We have all the legally required lifesaving equipment on board, plus a little extra. We want you to feel 100% at ease when you are travelling with us. All our staff are medically trained in first-aid and lifesaving, should there be any need for medical attention during the tour.
We recommend bringing a warm jacket with you. Life vests are provided, and are worn at all times while on board. There's comfortable seating in the form of a U-shaped sofa so you can chat with your fellow passengers, or if you'd prefer to be alongside the skipper and talk about life on and in the sea, you are very welcome to do that too.
Agapi is the Greek word for 'love' and was the name given by the founders of the company when they were building their very first models. Agapi is a Swedish company based in Stockholm, and we are proud to say that the 950 Twin is the flagship of the company's fleet. In keeping with the Greek sentiment, we thought carefully about a suitable name and finally fell for "Pandora" – the first woman,  according to Greek mythology. If we needed another good reason, Pandora is also a Swedish pop singer from the 90s who we enjoy listening to while we live life on the waves.
And for the less sentimental, more fact loving fans among you, here are some boat specs:
Length:           10 m  
Width:           3,06 m
Draft : 0,45 m
Motor:          Yamaha 2 x 300 hp
Fuel tank: 480 L
Top speed:       45 knots
Passenger capacity: 10